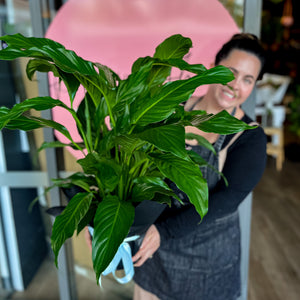 The Peace Lily represents purity, prosperity, innocence, peace, and sympathy.
Peace lilies (Spathiphyllum) are an undemanding friend to any gardener cursed with a black thumb. Easy to care for, they are one of the best indoor plants to choose for areas of low light in the home - their glossy green leaves adding life to even the dullest corner of a room. They are also one of the best plants to live with to purify the air in your home. A potted Peace Lily will sit beautifully in the bathroom, kitchen or office and require a minimum of upkeep.
Drooping crunchy leaves means you're simply not watering it enough. Immerse in a bucket or sink filled with water and soak overnight or until leaves stand tall again. Allow to drain and continue to keep the potting mix moist with regular watering, but don't over water as they're prone to root rot. Better to administer the occasional good soaking and let it dry out in between. Less water is needed in the cooler months. Yellow leaves indicate it's receiving too much light – remove to an area away from direct sunlight or with dappled light.
Your peace lily also loves a good misting, particularly in summer, to keep the leaves fresh and a wipe to remove any dust build up.
Would you like to add CHOCOLATES, CANDLES, or other GIFTS, click here!
Click here for delivery locations and same day cut off times.