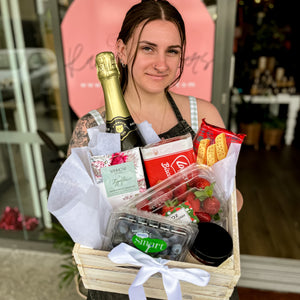 Good food, good drink, great people. Just three things make for the best kinds of celebrations or comfort. 
This hamper will include 1 x Winnow Bespoke chocolate, 1 x medium amber candle OR room spray, 1 x bottle of our Polka drop Non-Alc sparkling, 2 x seasonal packaged fruits and 2 x packaged comfort food baked goods, all beautifully wrapped on a wooden bread board. 
If we are sold out on any of our products we will substitute with another similar option.