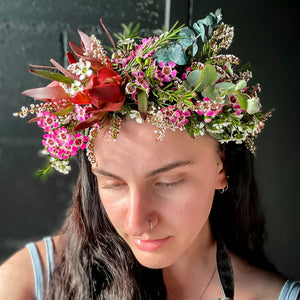 PARENT AND MINI FLOWER CROWN CREATING!
Join us in our Flagstone store for a fun and oh so creative time learning the art of flower crown designing for you and your minis.
Our flower workshops are such a great way to express creativity and have fun while you do it!
Please arrive on time to your class as we'll be starting straight away.
Your ticket includes:
-Guidance - from our skilled floral artists, ensuring great results! Allow 1 hour for this workshop.
-Materials - All materials are provided such as ribbon, flower glue, florist wire, florist tape and the prettiest product!
This is the perfect chance to try something new and find your inner creative, whilst connecting with your littlest sweetheart/s! Tickets are limited to 12 people per class.
Please Note: your ticket is non-refundable however if you change your mind you can use your ticket value as a credit to purchase something in store to the same value. There will be a 12 month expiry on this credit.
Thank you! And we hope to see you there!